Drafting goalies is definitely like roulette in my mind.

I came across this
Hockey News article
on draft eligible goalies and it made me think about it for a bit.

Drafting a goalie at 17 or 18 is something really hard to do.

There are big risks in drafting them, you don't know if they will mature properly, burnout, or actually make it to the NHL.

A promising goalie might get stuck in a teams system behind other goalies and never get the shot to play.

Also if a guy isn't drafted it's really not the end of the world for a goalie, most goalies don't hit their prime until their mid to late 20's.

Below are some goalies that have been drafted high, low or not at all and where they are now.
March 23, 2011 - Photo by Christopher Pasatieri/Getty Images North America
Henrik Lundqvist
, New York Rangers (Drafted 7th round #205 overall by NYR 2000, 210-134-49 [NHL Career], .918 save percentage, 2.31 GAA)
-Lundqvist was drafted in the 7th round and is definitely a great find for the Rangers.

They probably didn't expect him to end up being their franchise goalie (He came around the Dan Blackburn era).

He spent 5 years in the SEL after being drafted and that's probably what helped him do so well in his first year in the NHL.

He's an example of drafting a goalie late and it turning out unbelievable for a team.
March 9, 2011 - Photo by Christian Petersen/Getty Images North America
Henrik Karlsson
, Calgary Flames (Undrafted, 4-5-5, .906 save percentage, 2.55 GAA)
-Karlsson went undrafted and has been playing in Sweden for a number of years, only two in the SEL, before drawing attention of the Calgary Flames and signing with them last summer. Karlsson is now playing his first year in the NHL at 27. This is not something usually happens for an undrafted goalie, but is starting to trend with teams the past couple of years.
February 22, 2011 - Photo by Christian Petersen/Getty Images North America
Marc-Andre Fleury
, Pittsburgh Penguins (Drafted in the 1st round 1st overall by the Penguins 2003, 182-124-2-35, .909 save percentage, 2.73 GAA)
-There was a lot expected of Fleury being drafted first overall.

Fleury took a little bit of time to develop, but he has become Pittsburgh's franchise goalie and into a great return for the high risk move they took on drafting a goalie first overall. See Rick Dipietro for a not too great result in drafting a goalie 1st overall.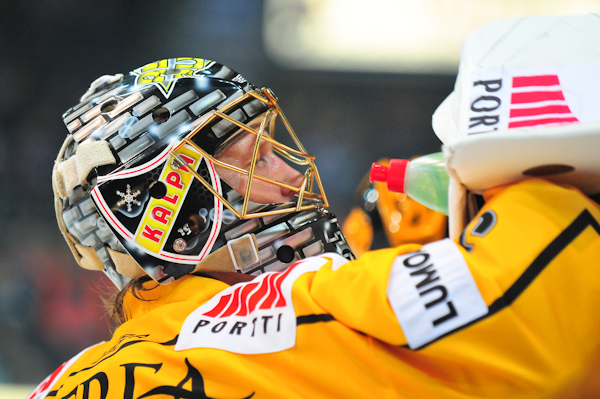 © Daniel Levi Cfir www.daniellevi.fi
Ari Ahonen
, KalPa (SM-Liiga) (Drafted in the 1st round 27th overall by the Devils 1999, no NHL games played)
-You might be saying Ari who? He was a promising prospect the Devils drafted.

Ari is a case where he got stuck behind a franchise goalie (Martin Brodeur) and the few times he was called up from the AHL he was never given a shot to play.

When he became a UFA he jumped back over to Europe to play in the top league in Sweden (SEL) and now Finland.

He is an example of the hazards of not knowing what you will get when drafting a goalie.
As you can see it really is like reaching into a bag blindfolded and not knowing what you are going to grab when you draft a goalie.